Duramax is now at Genesis!

These vinyl products are engineered at the highest level of durability and beauty, giving your home the most bang for your buck. The experts at Duramax have designed these products specifically to withstand the ultraviolet rays of Southern California, one of the harshest environments for outdoor decorations. Not only do we now carry vinyl fencing, but walls, patio decks, sheds, trimming, and gazebos.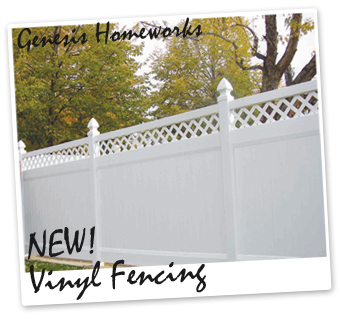 Aestheticaly pleasing, these new products can be ordered as straight vinyl, or foe wood and stone.
In addition to vinyl fencing's incredible lightness, strength, and durability, it is also less costly than alternative products. Several qualities of vinyl products ease installation and maintenance:
First:
of all no trenching is required; the products are engineered hollow to cut down on weight, but also with internal structural supports that increase strength.
Second:
repairs to any damaged structures are only a fraction of the expense as to other decorative materials; the low weight decreases the need for bulky footings and supports.
Third:
most walls are engineered with drainage systems, but vinyl has no need of this. The bulk of the structure does not rest on the ground, therefore water cannot build up and cause soil erosion. Vinyl products are simply easier to work with.
Give Genesis a toll free call at 888.389.5533 and we'd love to talk you through the new system. We will send a representative to your home to give you a consultation free of charge. No obligations and no regrets. It is your home and it deserves the best. Let us help you on the path to a richer life.
-Genesis