Adding artificial turf between pavers to our hardscape designs can be a beautiful and unique way to dress up your yard. Artificial grass has become an increasingly popular choice for residential and commercial landscaping projects, including golf courses, pet areas, lawns and sports fields. Its extraordinary endurance, low maintenance and versatility make it an obvious choice for many projects. As a home renovation favorite for families, artificial grass is used to level out uneven landscaping. This prevents tripping hazards and potential foundation damage when uneven areas invite flooding. Artificial turfs also make for softer areas to cushion falls.
Some homeowners have been surprised to learn that artificial turf can be a great choice for pool decks when used as a decorative border around patio pavers, or in other ways in your landscape design around the pool.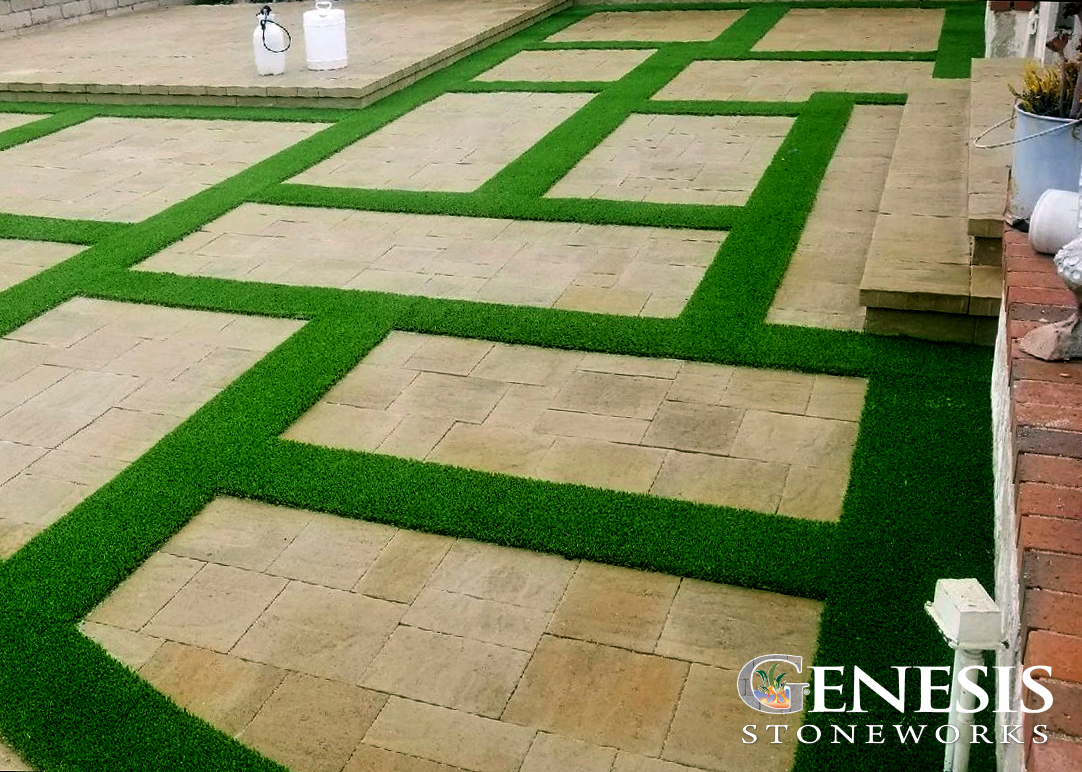 There are three practical reasons why this option works well for our customers:
Artificial grass requires low maintenance. It never needs mowing, trimming or fertilization. This saves the homeowner time and money while preserving the inviting aesthetics of the yard.
The added health benefit of artificial grass: eliminating the use of gasoline-powered equipment and toxic fertilizers and weed abatement products around pools saves your pool filter's longevity and improves the safety and cleanliness of your pool water.
Our artificial turf's impressive drain rate of more than 30 inches per hour per square foot is an often overlooked benefit to artificial grass around pools and other areas that frequently get wet. Pool playing and splashing around real grass can result in drenched sod, slippery mud spots and in some cases, the growth of mold or mildew. Our artificial turf feels dry within an hour, creating a more comfortable and safer option for your pool deck.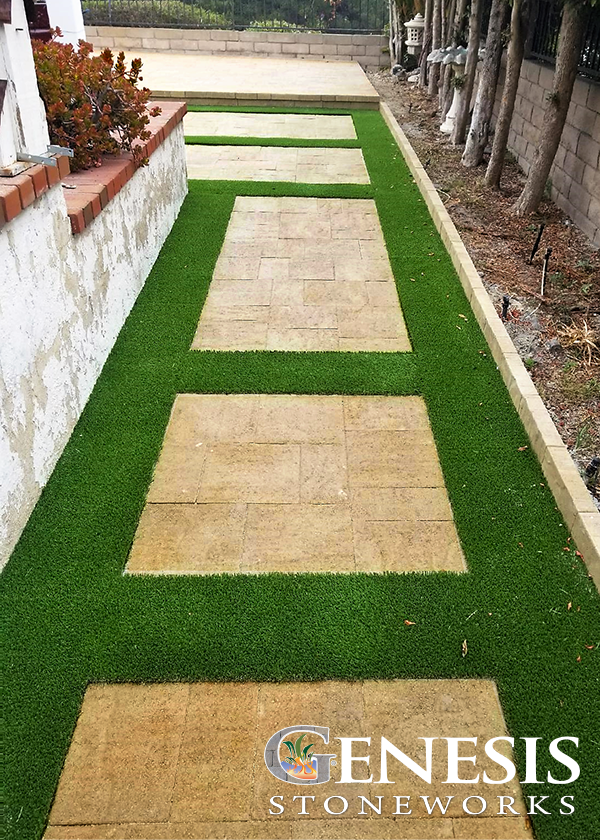 Bottom Line
Installing artificial grass to enhance your property's landscaping offers a high cost vs. value return for homeowners looking to save time and money, preserve the visual appeal of their yard without investing hours of tedious maintenance, and improve the health and safety risk factor of their home. When you are interested in seeing if upgrading your pool deck with pavers and artificial turf is a good choice for you or to schedule a free in-home consultation with a design expert, call Genesis at 888.389.5533 or visit our contact page.
We've been serving since 1993 with over 13,000 satisfied clients, and we'd love to help you however we can.